There are 0 people listening to this channel.
Stream currently under development.
Welcome to the heart of Union Pacific railroading in southern Arizona. The Sunset route, built by the Southern Pacific nearly 130 years ago, courses between Los Angeles and east of El Paso, TX. The UP Gila and Lordsburg subdivisions comprise the route across Arizona, New Mexico and the far-western tip of Texas, over 500 miles of mostly two-main-track railroad. Between 60 and 80 freight trains per day pass along this route, with the Amtrak Sunset Limited on an every-other-day schedule.
This feed monitors from atop ~8,000' Pinal Peak in southern-central Arizona and can hear on-the-rail traffic on the Gila from about milepost SP 875 to SP 988, and bits and pieces of the Lordsburg, There is also the added bonus of hearing base stations that cover from SP 800 to about SP 1100. This feed also provides solid coverage of the UP Phoenix subdivision, currently an over-100-mile-long spur that separates from the Gila sub at SP 937 and winds its way to the heart of Phoenix (PHX) and west.
There's lots of traffic that moves between the PHX and Gila Subs, and the wye at Picacho can be very busy. Avid listeners may catch the more rare moves on the west side of the wye. Since the PHX sub is automatic-block-system (ABS) only, train crews using the sub will ask for track warrants anywhere from downtown PHX to the Picacho area.
Frequencies monitored
160.230 MHz (Lordsburg Subdivision road)
160.320 MHz (Gila Subdivision road)
160.785 MHz (Phoenix Subdivision road)
Failed Equipment Detectors (heard to date)
Gila Sub: (unless otherwise noted, all defect detectors are on both tracks 1 and 2)
SP 881.5
SP 893.5
SP 902.0
SP 919.5
SP 928.6 (talks on defect only)
SP 929.5
SP 941.5
SP 954.0
SP 964.6
SP 976.8
Phoenix Sub:
PX 890.5
PX 911.0
PX 927.5
PX 941.6
PX 953.0
PX 969.9
Equipment Used
The receiving site employs a Motorola Spectra receiver scanning the 3 listed frequencies on an equal-priority basis and a 3-second hold time. The antenna is a commercial 2-bay-folded dipole with both dipoles on the same side of the mast, giving about 6 dB gain to the WSW. This location is also home to the ATCS Monitor receive site for the eastern Gila Sub. A picture of the full setup is below; the other 4 Spectras are there to monitor VHF AAR ATCS channel pairs. If you're not aware of ATCS Monitor, it allows the listener to have an active "dispatcher display" which graphically displays track occupancy, signal indications, and track switch position. More information is available at www.atcsmon.com or at the Yahoo Groups for ATCS Monitor.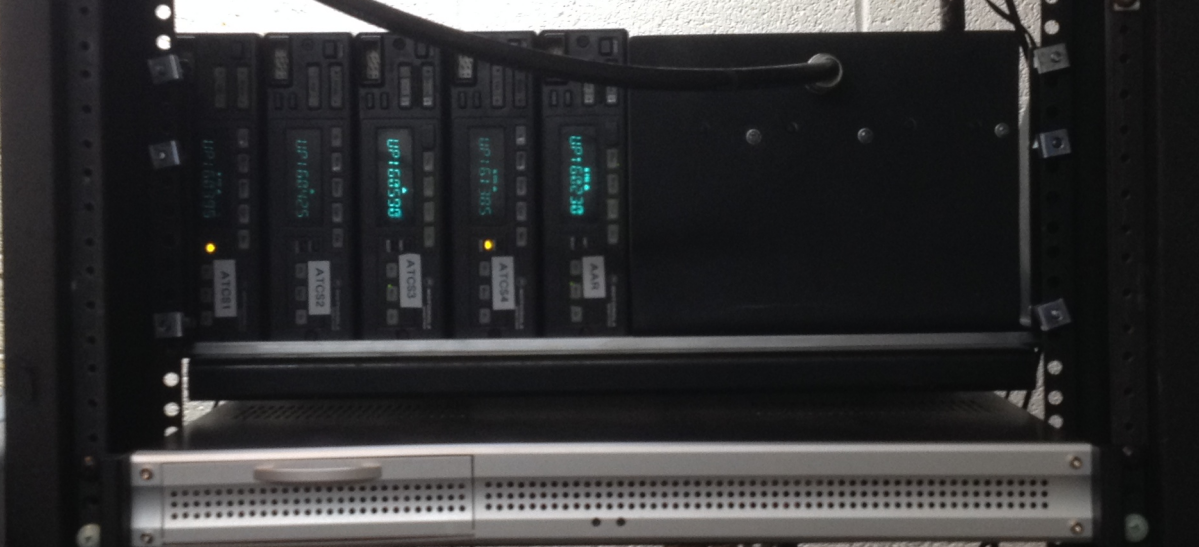 Predicted Coverage
The following image is the RSSI coverage prediction for the Pinal Peak site. Prediction is done via Radio Mobile, an excellent free as in "free beer" software package which provides powerful radio propagation and coverage capabilities. For this site, the receiver breaks squelch at about -120 dBm and clear reception is possible (barring other interference) at levels above -110 dBm.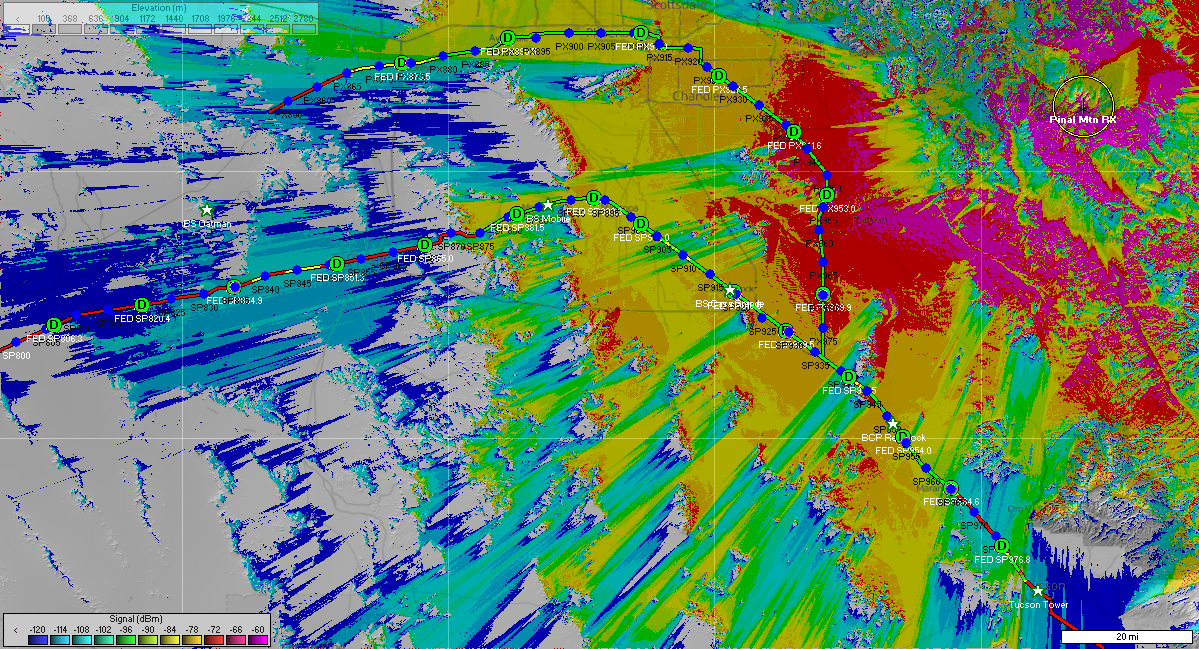 ATCS Monitor Support
Four Motorola Spectra VHF radio receivers scan different ATCS channel pairs to provide near-complete coverage of the eastern part of the UP Gila Sub from about MP SP 876 (Estrella) to SP 961 (Marana). The following screenshot is of the ATCSMon dispatcher display all lit up in red showing excellent coverage, due in no small part to this site.