PLEASE NOTE: THIS STREAM IS UNDER INITIAL SETUP AND TESTING/EVALUATION FOR APPROVAL. THERE MAY BE ADJUSTMENTS AND OUTAGES AS A RESULT OF FINE TUNING PERFORMANCE.
There are 0 people listening to this channel.
Welcome to railroad monitoring in the Valley of the Sun! From 4000' atop the White Tank Mountains at a site about 30 miles west-northwest of Phoenix AZ, this feed listens in on the UPRR, BNSF and Arizona and California Railroad (AZRC). The coverage area includes the western end of the BNSF's Phoenix Sub, the western end of the UP's Phoenix Sub, and the very eastern end of the AZRC.
On the BNSF, meets with ARZC can be heard nearly daily. Sometimes a train will depart PHX, head out to Castle Hot Springs or Matthie, and the ARZC crew will pick it up there. Other times the train might actually run through. Phoenix Sub coverage generally is strong from the mouth of Date Creek Canyon (MP 120) to downtown Phoenix, with a few spotty places like Matthie and the Hassayampa River canyon. On occasion, hyrails and locomotives have been heard up by Date or Hillside. The various Phoenix work trains generally have names that start with the letter "O" followed by a number. A great wealth of detail on the BNSF Phoenix sub is available at Aeromoe's site. There will be a moderate number of single-sided conversations heard since the receive site can hear the Date base station (Yarnell Hill radio site) which can talk to trains all the way back to near Skull Valley.
On UP, there are plenty of locals doing industry switching in and around Phoenix, there are the trains running between PHX and Tucson, and there's even the occasional westbounder that departs PHX and heads down to the Gila mainline at Picacho, then turns right toward California. Due to reception of the wide-coverage base stations at Oatman Peak and Pinal Mountain, single-sided conversations between the DS and various train crews may occasionally be heard. Phoenix work train jobs have names that start with "KK" and are followed by a number.
Frequencies Monitored
160.650 MHz (BNSF Phoenix Sub)
160.785 MHz (UPRR Phoenix Sub)
160.860 MHz (Arizona and California Ry (ARZC), BNSF Phoenix Sub)
161.370 MHz (BNSF Phoenix Sub)
161.430 MHz (UPRR Tempe lead)
161.550 MHz (UPRR Phoenix local)
Failed Equipment Detectors
MP 137.9
MP 146.6
MP 155.4
MP 173.0
UP Phoenix Sub:
PX 873.5
PX 890.5
PX 911.0
PX 927.5
PX 941.6
Modeled Radio Coverage
The potential VHF coverage for the White Tank site was modeled using Radio Mobile. A clear received signal should be -105 dBm (pale blue/aqua) or stronger.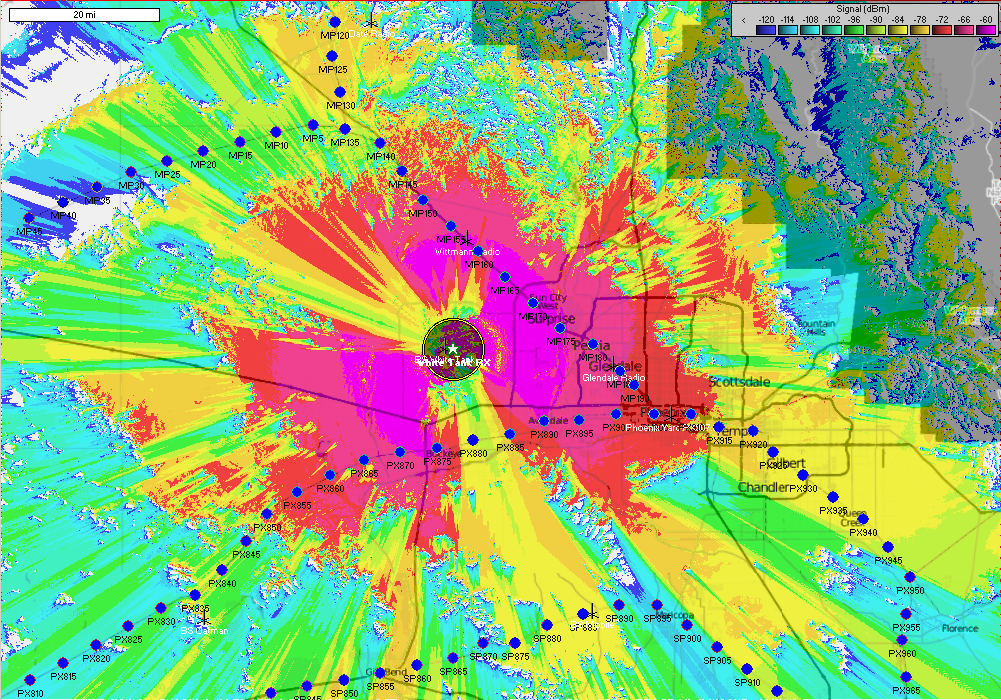 Equipment Used
The receiving site employs a Radio Shack PRO2052 receiver scanning the 6 listed frequencies on an equal-priority basis with a 3-second hold time, with Shoutcast running on a Raspberry Pi 3B+.
This location is also home to the ATCS Monitor receive site for the central part of the Gila Sub. If you're not aware of ATCS Monitor, it allows the listener to have an active "dispatcher display" which graphically displays track occupancy, signal indications, and track switch position. More information is available at www.atcsmon.com or at the Yahoo Groups for ATCS Monitor.
For more details on the site, please go to http://www.jonadams.com/atcsmon/whitetank.htm.